New release...
​Heather Kirchhoff is a Young Adult and paranormal author. She is in thirteen anthologies, with more coming soon. For anthologies, she's written horror, domestic abuse, a fairytale, paranormal, realistic fiction, and a couple nonfiction stories.
---
Thy life's a miracle. --King Lear, William Shakespeare
Have you ever experienced something that seemed impossible, but inexplicably became a reality? In each of the stories and poems in this anthology you will dive into a world where the impossible becomes possible by the work of a divine agency, hopefully bringing a tear to your eye and joy in your heart. Miracles are all around us if we open our eyes and truly believe.
---
​
12 Magical Nights of Christmas is only $0.99! All proceeds will be going to St. Jude's!



Savor the sexy, explore the mystical, and experience the whimsical enchantment in these never before published stories!





Christmas is a time for wonder and giving! Experience the magic of Christmas with these twelve tales of fantasy, passion, and romance, and discover what gifts true love can bring!





Julia Mills, Tami Lund, Heather Marie Adkins, C.D. Gorri, P.T. Macias, P. Mattern, Yolanda Olson, Ariel Marie, Savannah Morgan, Amanda Kimberley, Heather Kirchhoff, Aimee Shaye.
---
You can now buy My Fated Valentine for only $0.99! All proceeds will be going to St. Jude's!
Coming soon...
One thing leads to another...

Chris sees a beautiful girl walk into a restaurant and can't imagine allowing her to walk away.
Kateline was just hanging out with her friends when a stranger approaches her.
Now, four years later, they are stronger than ever together.
But there is one thing weighing on Chris, and he's constantly fighting with the voice in his head encouraging him to tell her. He knows he needs to, especially after all this time, but can never find the words.
When Chris takes Kateline on a surprise romantic getaway for Valentine's Day, whispers about a huge creature appearing in the woods is suddenly the town's gossip. At first Kateline ignores those comments, knowing there's nothing to worry about with her boyfriend by her side, until one night she wakes up and finds her partner gone.
Inks & Scratches:
Heather has an article about her books and how she started writing in this magazine. Check it out!
Check out Heather's interview in the September 2017 issue of Inks & Scratches!
Heather has a cover reveal in this issue!
Powered by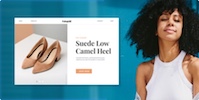 Create your own unique website with customizable templates.